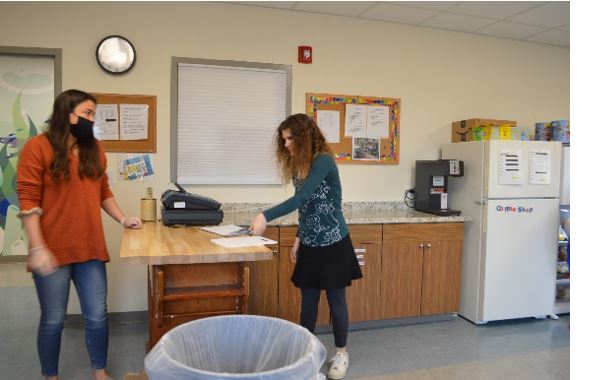 On a cold Wednesday in November, The Guild School's kitchen is a whirlwind of activity: one student pops a pan of cheesy pigs-in-a-blanket into the oven while another cleans up the countertops. More student chefs are putting the finishing touches on a second tray, taking care to wrap each appetizer just right.
Cooking groups, led by The Guild's Occupational Therapy department, meet bi-weekly and allow students to prepare 30-minute meals that can be replicated at home. Students learn about cooking techniques, proper appliance use, and kitchen safety skills during each session.
"These groups target everything. They incorporate a lot of the vocational skills our students are working on," says Alicia Tardiff, Occupational Therapy Manager with The Guild. Alicia adds that the groups take place every other week to give students time to plan out their meals, research ingredient prices, create a budget, and go to the grocery store.
While staff from the Occupational Therapy and Speech departments manage these groups, the studen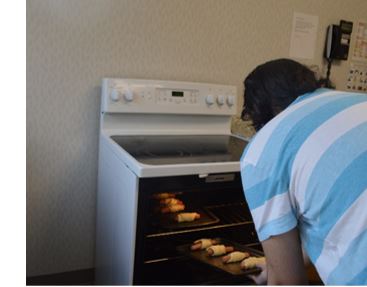 ts take the lead. Students choose their meals and work together as a team to follow the recipe steps. Groups have made everything from jambalaya and mac n' cheese to pizza bagels and Rice Krispy treats. "Students love seeing their idea come to life," Alicia adds.
Sean R., a Guild school student, says that he looks forward to cooking groups each week. "It's not always easy because you have to follow a recipe and work together, but they're fun," he says.
Alicia has big plans for The Guild's cooking program moving forward. "We'd love to create a new Guild cookbook that students could browse and choose recipes from each week. I'd also like to start a dog and cat treat business, with a goal to donate treats to local shelters and sell them during the holidays," she says.