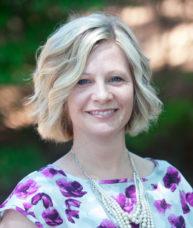 As the chief executive officer, Amy oversees the implementation of The Guild's mission, values, resources and service models for all of The Guild's programs, which serve 150 people with disabilities. Additionally, she is responsible for the professionalism of more than 550 staff members and functioning of 22 facilities across Massachusetts.
Amy came to The Guild after five years as executive director of Wediko Children's Services, a nonprofit organization headquartered in Boston. Prior to joining Wediko, she served as executive director of the National Organization for Victim Assistance, interim executive director of the New Hampshire Coalition Against Domestic and Sexual Violence, and public policy manager for the Pennsylvania Coalition Against Domestic Violence.
Additionally, Amy has been a technical assistance provider for the U.S. Department of Justice's Office on Violence Against Women, consultant to the EPA and graduate fellow in the Office of U.S. Sen. Edward M. Kennedy.

Amy's research has been published in the professional journals Symbolic Interaction and Disabilities Studies Quarterly. She has been on the faculty of Boston College and the University of Massachusetts Lowell. Her advocacy has taken her throughout the United States and to destinations around the world, including Ghana, Togo, Benin and Morocco.

A native of New Hampshire, she received a BA and PhD from Boston College and an MSc from the London School of Economics and Political Science.
Guild CEO named a finalist for Excellence in Nonprofit Leadership Award.