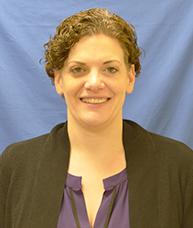 Jaimie serves as Director of Education, overseeing the supervision and professional development of the educational team; ensuring adherence to licensing regulations; and supporting the development, implementation, and progress monitoring of IEP and curriculum services for students attending The Guild School. In her role, Jaimie works collaboratively with other Guild leaders to build and sustain quality programming for the students served.
Before joining The Guild, Jaimie served in many roles during her almost 20-year career at May Institute, including teacher, educational coordinator, and executive director. Jaimie was responsible for the oversight of school programs, including strategic plan implementation; licensing and accreditation; census and budgetary goals; student progress; district contact; family support and parent advisory board; staff hiring, retention and recognition programs; training/outreach programs; fundraising initiatives; and community and volunteer events.
Jaimie holds a Master of Education in Autism and Applied Behavior Analysis from Endicott College and a Bachelor of Science in Psychology from Northeastern University.